Water Softener – Groveland, FL
Water Softener Groveland, FL | South Florida Water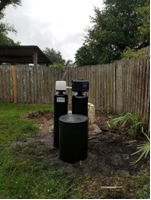 At South Florida Water, we are determined to provide you with assurance that you have the best water filtration system for your Groveland home. We are dedicated to making sure that our customers in Groveland all have high quality water. No more spotty dishes or white scale on your faucets.  With a South Florida Water Conditioner, you will have crystal clear, chlorine free soft water. Should you become one of our Groveland customers, you will experience the many benefits that a good water purification system can bring.
South Florida Water is local to Groveland because we know that folks like you are conscious of their water and want the best for their families. Check out our home page and click on our products and see all the options to fit all your water filtration needs. Call us today and have our Groveland representative show you how you too can have great tasting, drinking water from any tap in your home.
Water Softener
Wouldn't you like to have the best possible water for your family at the best possible price?
South Florida Water is your best choice for Water Filtration, Purification & Treatment Systems.
Give us a Call Today at 888-506-6821 or Email us now by filling out the form to the right.