Salt-Free Cartridge Filtration System
South Florida Water's SALT FREE Whole House Cartridge Filtration System | Tampa, Orlando & Sarasota, FL
South Florida Water Filtration Cartridge Systems is truly revolutionary featuring the One™ Water Filtration Simplified cartridge tank. Engineered to replace smaller cartridge style housings, the Systems yield higher flow rates and longer cartridge life than conventional systems.
No Salt – No Electric – No Backwashing
Call for a Free Quote!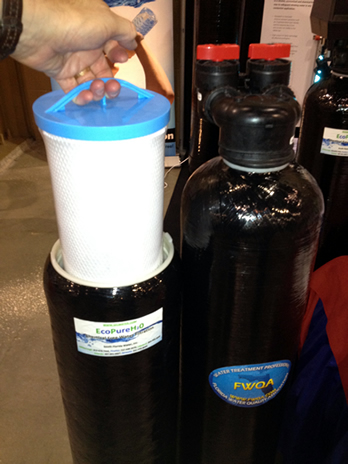 The South Florida Water Filtration Cartridge Systems can be used to filter a variety of contaminants, from taste and odor issues to sediment and fine particulate reduction requirements. It is an environmentally safe alternative to traditional water softeners and conditioners providing the benefits of a water softener reducing the scale without adding chemicals like salt or potassium. Our deluxe high capacity EcoPureH20™ Salt Free Water Conditioning System without backwash provides fantastic drinking water without electricity, chemical and maintenance Free! This system features Catalytic Carbon and a second tank with Anti-Scale Media Crystals to prevent all the negative effects of calcium and magnesium. This system will provide fantastic drinking water throughout your entire home while removing Chlorine, chloramines, heavy metals and sediment all without using chemicals like salt or potassium. This system also protects your water heater, wash machine, coffee make, dishwasher, showers and all plumbing, while allowing the positive health benefits to remain.
Special features:

• Higher flow rates and longer cartridge life than conventional cartridge style housings virtually eliminates the need to replace cartridges on a weekly or monthly basis.
• No tools needed! Unique, snap-ring design simplifies assembly and installation.
• Uses special composite materials, non-corrosive design is the ideal replacement for expensive stainless steel cartridge systems.
• Ideal pre-treatment or post-treatment system provides for high flow rates and particulate loading while minimizing pressure drop.
• This unique 3 or 20 Micron cartridge system is used as part of our EcoPure H20 No Salt Conditioning System.
• Utilizes the Vortech™ tank a revolutionary new technology increasing the flow.
Because clean water is so important, call the experts in water filtration. The South Florida Water team sells, installs and services the best quality water softeners, water conditioners, salt free conditioners, well water treatment system, reverse osmosis and iron sulfur systems throughout Tampa FL, Orlando FL, Sarasota FL and all the communities in between to include: Land O Lakes FL, Wesley Chapel FL, Zephyrhills FL, Odessa FL, Lutz FL, Tarpon Springs FL, New Port Richey FL, Spring Hill FL, San Antonio, FL, Inverness, FL, Leesburg, FL, Brooksville FL, The Villages, Ocala FL, Plant City FL, Dade City FL, Wimauma FL, Ruskin FL, Riverview FL, Valrico FL, Lithia FL, Parrish FL, Apollo Beach FL, Lakeland FL, Bradenton FL, Kissimmee FL, Clermont FL, Sun City Center FL, Windermere FL, Sanford FL, Longwood FL, St. Cloud FL and more.