Salt-Free Water Conditioner
EcoPureH2O™ Salt-Free Water Conditioning | Tampa, Orlando, Sarasota, FL
Benefits:
Chemical Free – No Salt or potassium
Provides clean, clear, exceptional drinking water throughout your entire home!
Removes Chlorine/Chloramines from your water.
Promotes soft healthy skin and silky hair.
Coffee, beverages and food will be healthier and taste better.
Cleans pipes and protects water heater.
Reduces water spots on dishes and shower area.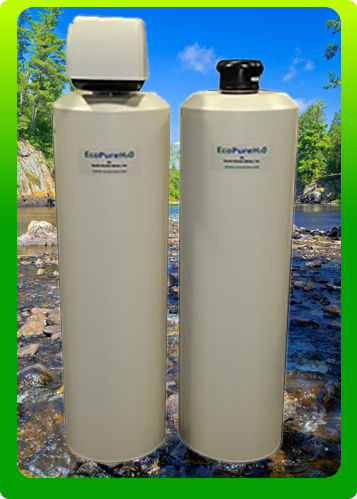 This deluxe high capacity EcoPureH20™ Salt Free Water Conditioning System with backwash provides fantastic drinking water and is fully automatic, chemical and maintenance Free! This system features KDF-55 Cartridge and Catalytic Carbon and a second tank with Anti-Scale Media Crystals to prevent all of the negative effects of calcium and magnesium. This system will provide fantastic drinking water throughout your entire home while removing Chlorine, Chloramines, heavy metals and sediment all without using chemicals like salt or potassium. This system also protects your water heater, wash machine, coffee maker, dish washer, showers and all plumbing, while allowing the positive health benefits to remain.
Salt Free Filtration
Anti-bacterial Coconut Shell Catalytic Carbon – removes bad taste, odor, chlorine/chloramines, heavy metals and sediment; removes over 250 chemicals such as pesticides, herbicides, & pharmaceuticals.
Anti-Scale Media Crystals – substantially reduces the negative effects of calcium and magnesium while removing chlorine, chloramines, heavy metals and sediment
Vortech™ Tank

– revolutionary new technology for increased flow

Because clean water is so important, call the experts in water filtration. The South Florida Water team sells, installs and services the best quality water softeners, water conditioners, salt free conditioners, well water treatment system, reverse osmosis and iron sulfur systems throughout Tampa FL, Orlando FL, Sarasota FL and all the communities in between to include: Land O Lakes FL, Wesley Chapel FL, Zephyrhills FL, Odessa FL, Lutz FL, Tarpon Springs FL, New Port Richey FL, Spring Hill FL, San Antonio, FL, Inverness, FL, Leesburg, FL, Brooksville FL, The Villages, Ocala FL, Plant City FL, Dade City FL, Wimauma FL, Ruskin FL, Riverview FL, Valrico FL, Lithia FL, Parrish FL, Apollo Beach FL, Lakeland FL, Bradenton FL, Kissimmee FL, Clermont FL, Sun City Center FL, Windermere FL, Sanford FL, Longwood FL, St. Cloud FL and more.