Well Water Treatment Filtration Systems From South Florida Water | Tampa Bay, Orlando, Sarasota, FL Areas
Treating / filtering well water is very different from treating city water. Our system removes hardness and softens water. Extremely clear high quality water you can trust! Enjoy softer skin and silky hair with no more dry itchy skin or cleaning soap scum from the shower! Kills bacteria and prevents getting spotted or foggy dishes. Our system is low maintenance and easy to use, and it extends the life of your water heater. See our systems below: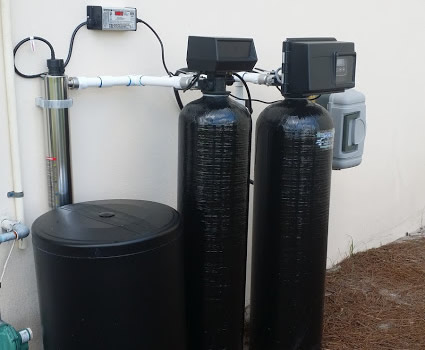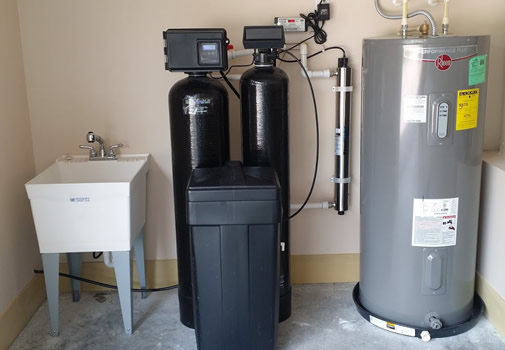 Water Tannin Removal and Softening System is a self-backwashing system that automatically removes the tannins (yellow tea-like stains) within the filter bed and washes them down the drain. Read More

Dry Pellet Chlorination System – The solution to Iron and Sulfur problems – Chlorine is a powerful and effective oxidizer that can be used to treat common well problems like iron and hydrogen sulfide – (rotten egg odor). Read more

Iron filtration System – The whole house Manganese Greensand unit uses potassium permanganate. Removes Iron ( Ferrous & Ferric), Manganese & Low Hydrogen Sulfide! The unit includes 2 tanks, a small mineral tank and a potassium permanganate tank. Read More

Iron-Sulfur Eliminator Filter Best Seller – South Florida Water's Iron-Sulfur Eliminator Filter unlike many Iron removal systems that require the use of chemicals, the Iron-Sulfur Eliminator Filter is chemical free and nearly maintenance free! Read More

Aeration Water Treatment – Fully automatic system that can eliminate approximately 99.9% of Heavy Sulfur, known as the "Rotten Egg Smell", also eliminates Black Stains and Corrosive Action in well water. Read More
Hydrogen Peroxide Well Water Treatment System
Removes iron, manganese and odors.
• Kills iron bacteria.
• No chemical residuals.
• Enjoy low maintenance.

Ultraviolet Water Purification – Reliable, economical and chemical-free way to safeguard drinking water in any residential application. The Sterilight Silver™ system has been designed and tested to ensure quality drinking water is at everyone's finger tips. Read More
Because clean water is so important, call the experts in water filtration. The South Florida Water team sells, installs and services the best quality water softeners, water conditioners, salt free conditioners, well water treatment system, reverse osmosis and iron sulfur systems throughout Tampa FL, Orlando FL, Sarasota FL and all the communities in between to include: Land O Lakes FL, Wesley Chapel FL, Zephyrhills FL, Odessa FL, Lutz FL, Tarpon Springs FL, New Port Richey FL, Spring Hill FL, San Antonio, FL, Inverness, FL, Leesburg, FL, Brooksville FL, The Villages, Ocala FL, Plant City FL, Dade City FL, Wimauma FL, Ruskin FL, Riverview FL, Valrico FL, Lithia FL, Parrish FL, Apollo Beach FL, Lakeland FL, Bradenton FL, Kissimmee FL, Clermont FL, Sun City Center FL, Windermere FL, Sanford FL, Longwood FL, St. Cloud FL and more.
Have fantastic water throughout your home!