Water Conditioner-Purifier – Sarasota, FL
Water Conditioner-Purifier Sarasota, FL | South Florida Water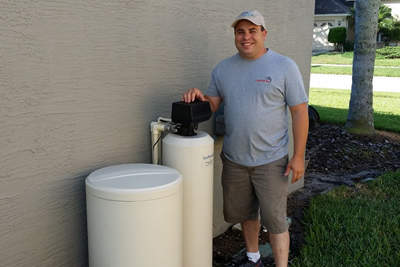 The quality of the water purifier that you use can determine how clean and healthy your water really is. If you opt to just get a cheap water filter, you will see corresponding results. And if that water filter is a portable container, you will experience a different set of results than you would against having a water filter installed in your water line. The difference in water purifiers can really determine whether or not the water is just drinkable, versus being enjoyable. As a result, we recommend to most of our clients, that you should have a water purifier installed in your water line.
They are definitely more expensive up front, and they are more work to maintain and install, but in many cases their cost compared to other water purifiers is actually less. This means that you can spend a couple of thousand dollars and not have to worry about water usage and taste for a number of years, or you can continue to spend loads of money each month on water bills, bottled water or cheap water purifiers that don't really do what you need them too.
Water Conditioner-Purifier
Wouldn't you like to have the best possible water for your family at the best possible price?
South Florida Water is your best choice for Residential Water Filtration, Purification & Treatment Systems.
Give us a Call Today at 888-506-6821 or Email us now by filling out the form to the right.